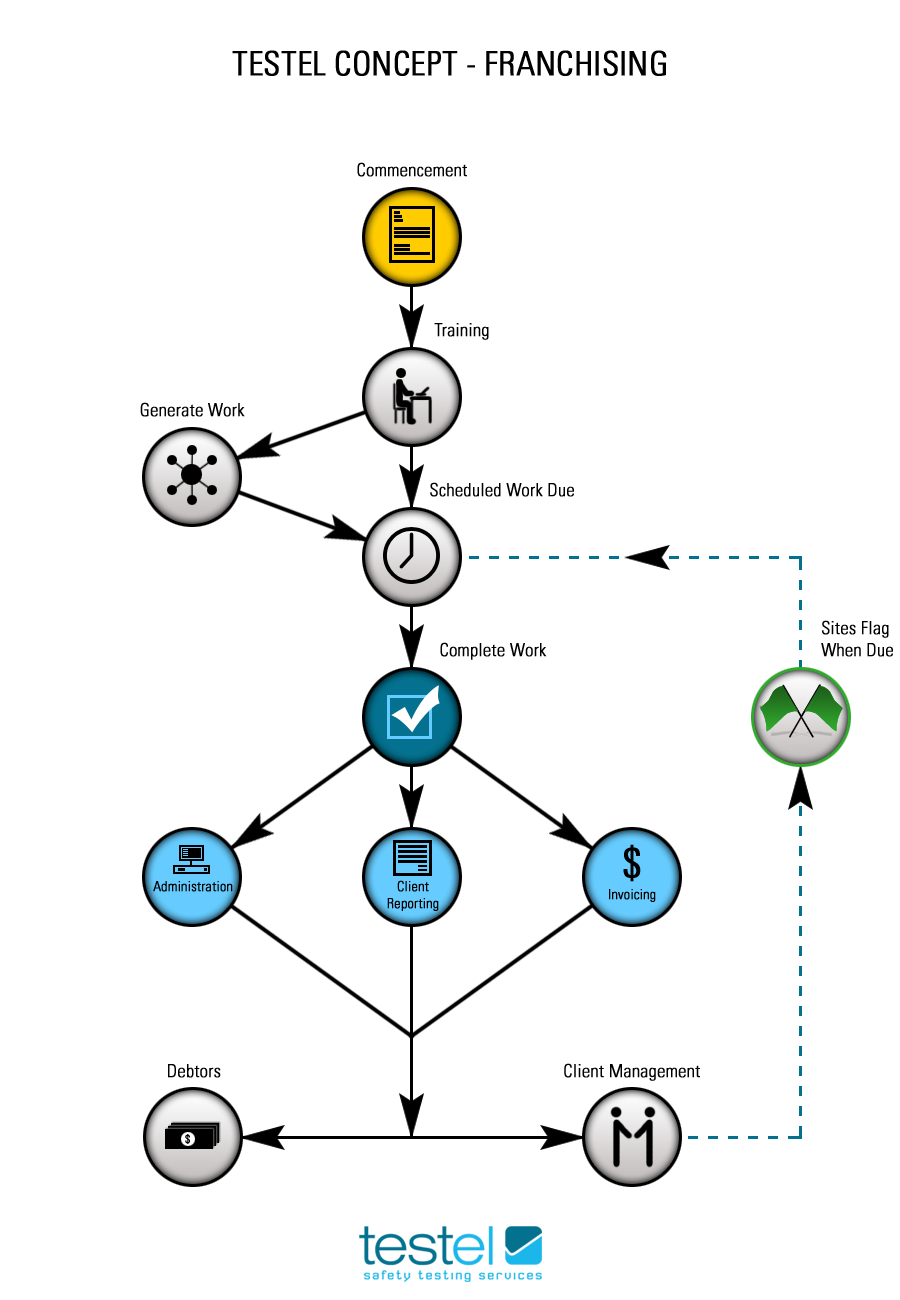 1. Commencement
Following an evaluation process, when all parties are in agreement, a date of commencement is determined.
2. Training
Training takes 2 weeks and is conducted in Testel's head office in Adelaide.
3. Generate Work
When you purchase an agreed amount of Income Support, that amount of income is provided to you for your business by head office. If you select nil Income Support, then you need to generate all the work that you service.
The initial fees are based upon the amount of Income Support selected.
4. Scheduled Work Due
The Testel service personnel arrive on site at the nominated time/day, undertake an induction as required, and plan the job with the manager or nominated site contact.
5. Complete Work
Upon completion of the work, you upload the records to the central system at Testel's head office where all the data is processed.
6. Administration
To maintain your franchise, a minimum amount of administration is necessary to conduct business.
7. Client Reporting
Head office will format all client reports and post them to the internet for client viewing and downloading. Head office staff provide client support so that clients can access their reports.
8. Invoicing
Head office will generate the invoices, following the completion of the site work. The invoices will be available to you electronically and provided to clients.
9. Debtors
Head office will chase unpaid invoices regularly. There is no need for you to chase unpaid invoices.
10. Client Management
Head office maintains client contact and updates the client details as required.
11. Sites Flag When Due
Departments are scheduled by providing approximately 2 weeks advance notice of the service date to the client. The scheduled date is further confirmed 3 days in advance.